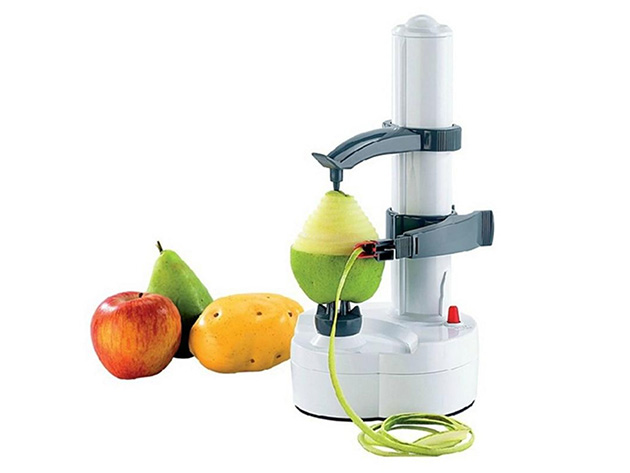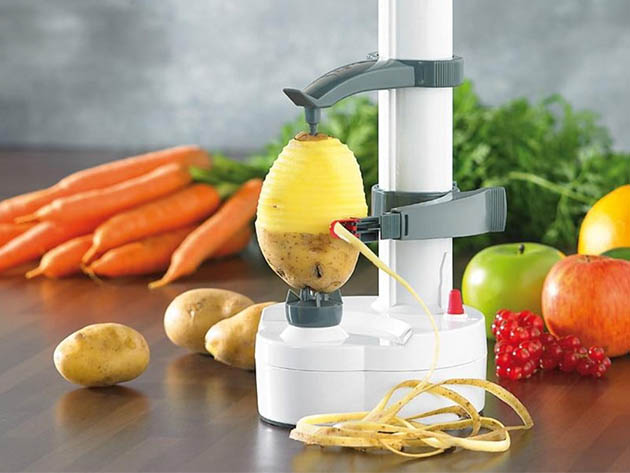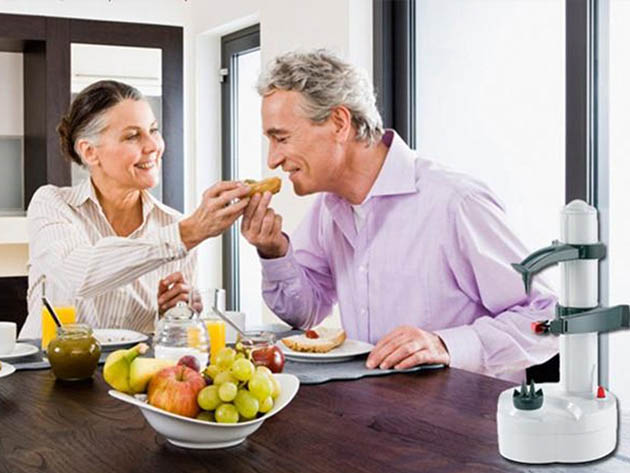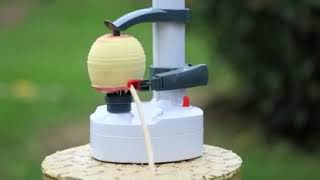 Automatic Fruit & Vegetable Peeler
by Onetify
Cut Your Actual Peeling Time & Not Your Hand with This Peeler's Ultra-Safe, Hygienic Design
Description
Protect yourself from painful slicing cuts and wounds! This Automatic Fruit and Vegetable Peeler is the ultimate time-saver when peeling fruits and vegetables! Compared to manual peeling, this product is designed to be more efficient, safe, and even hygienic! Just place any fruit or vegetable, such as apples, potatoes, etc., press the button, and voila! The electronic peeler does the job for you! It also comes in a handy and non-slip base design, so you can use it safely whenever and wherever you are!
Ultra safe design. Avoids cuts from slicing or peeling; no need to touch or hold the vegetable while it's peeling
Time saver. Saves your time from doing manual peeling or slicing work
Easy to use. Simply follow its 4-step direction & let it do the job for you
All-in. Suitable for peeling fruits & vegetables, such as apple, potatoes, etc.
Convenient. Handy thumb knife for quick, easy peeling
Non-slip base built. Made with durable ABS plastic and meant to last longer
Clean & safe. More hygienic than manual peeling
Easy cleaning. Simply rinse with water
How To Use It
.
Place the fruit on the bottom food holder and press gently.
Lower the upper holder so that it can contain the fruit securely.
Using the height adjustment lever, raise the cutter arm so that it rests on top of fruit to be peeled.
While pressing lightly on the upper holder, press on the power button. The skin peels off in one clean, continuous curl
Warning: Do not grab cutter blade. It is razor sharp!
Specs
Specs
Color: white
Material: ABC plastic
Dimensions: 6" X 5.6" X11.6"
Weight: 1.98lbs
Battery requirement: 4x AA (Not included)
2 spare blades in the product's bottom
Non-slip base design
Handy
Manufacturer's 30-day warranty
Includes
1x Automatic Fruit & Vegetable Peeler
Shipping
Ships to Contiguous US
Expected Delivery: Dec 14 - Dec 21